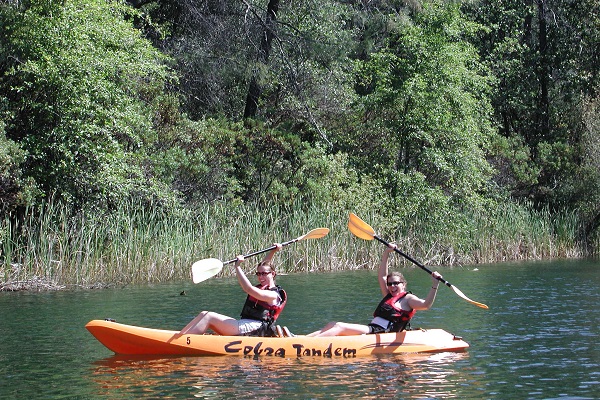 Address: 14412 John F Kennedy Memorial Rd,
Whiskeytown,
CA
96095
Phone: (530) 246-1225
Website:
View Website
Description:
Whiskeytown National Recreation Area's ranger-led kayak programs are a great way for families and friends to learn about nature while participating in fun and exciting outdoor activities. Please call the visitor center at (530) 246-1225 or Ranger Jeff at (530) 242-3421 for the latest information on ranger-led programs.
General Kayak Information: Reservations are required and can be made up to two weeks in advance of a tour date by calling (530) 242-3462. Volunteers are usually available to take your call from 9 - 1 on Monday and Wednesday through Saturday. Reservations can only be made by talking directly to a kayak volunteer. However, due to the popularity of the kayak programs, you may not always be able to get through and unfortunately left messages will not secure a spot on a kayak tour. Please keep trying or call back at a less busy time. Your patience towards the park volunteers is greatly appreciated.
Kayak Program departing from Brandy Creek Beach (2.5 hours)
Daily tours at 9:30 am Monday - Sunday, and 5:30 pm tours are offered on Saturday - Thursday (2 ½ hours).
Hop on a tandem kayak with a friend and explore the quiet coves around Whiskeytown Lake while you learn more about the natural and cultural values of the park. Children must be at least six years old. Reservations can be made up to two weeks in advance. To reserve your spot, call (530) 242-3462.
Moonlight Kayak Programs departing from Brandy Creek Beach (2.5 hours)
Experience the dramatic changes in the landscape as you explore Whiskeytown Lake under the light of the moon. Reservations slots fill up fast for this ranger-led program, calling in the morning two weeks in advance will give the best opportunity of securing a slot. Several tours dates are offered each month. If tour is full, remember this is a FREE program and people often cancel so ask the volunteer phone reservationist to put you on the waiting list!
Special Access Kayak Program departing from Brandy Creek Beach (2 hours)
Friday evenings during July and August (2 hours)
This program has been developed for individuals with special needs so they can enjoy a kayaking adventure. Visitors who have limited mobility, disabilities, developmental issues, or restrictions due to age or illness are encouraged to give kayaking a try. Visitors with special needs are paired with an experienced volunteer. Please call ranger Jeffrey Gerbic at (530) 242-3421 for more information.
Junior Ranger Kayak Program departing from Brandy Creek Beach (1.5 hours)
Monday and Thurdsay at 1:30 pm
Join us for a special program that pairs parents and their children in a kayak so they can discover and share the joy of nature with each other as they paddle and play. The Monday program is geared for children three to six years of age, and the Thursday program is geared toward children seven to twelve years old.