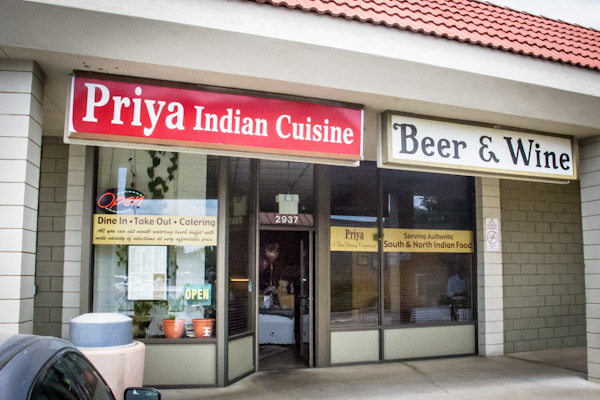 Address: 2937 Churn Creek Road,
Redding,
CA
96002
Phone: (530) 222-3200
Website:
View Website
Beer And Wine
Family Friendly
Description:
If you are looking for authentic Indian food, Priya Indian cuisine is the best place to be. Situated in the heart of Redding, Priya Indian cuisine offers you a wide variety of delicious and authentic Indian food. At Priya Indian cuisine, food is our passion, so you can be assured that it is always prepared with utmost love, devotion, and the finest home made ingredients. We are inspired by the home cooked meals of spice rich India. Our experienced chefs will serve you some of these age old recipes reinvented. We offer a large range of mouth-watering food, cooked with natural herbs and spices to tantalise your taste buds. We serve a variety of North Indian and south Indian food served in traditional Indian style, all age old recipes perfected by our master chefs. Get mesmerized by the delicately decorated homey Indian ambience enveloped with the fragrance of incense. From the warm welcoming namaste, to the elaborately served four course meal, Priya's Indian Cuisine captures the very Indian zest for life undiluted. Priya Indian cuisine will give you a glimpse of India and its rich cultures from North Indian to South Indian cuisine. We also celebrate all the Indian festivals with equal zest. So take your pick and celebrate the culinary spirit of India! North Indian Delights: An Indian meal consists of roti or paratha (Indian bread) with a subji, which are vegetables or meats cooked in a aromatic gravies, followed by the traditional biryani - which is a mixture of succulent pieces of meats and vegetables cooked in aromatic basmati rice. The tandoori and kebabs form a major part of north Indian entrees. Taste succulent pieces of chicken, lamb, and fish marinated in yogurt and freshly ground Indian spices that are skewed daily in a clay oven below red hot coals. These small pieces of meat dipped in mint chutney give an added zing to your palate. The 2nd course of the meal begins with the roti, which is Indian bread, followed by rice or biryani. Don't miss the desert. South Indian Delights: The cuisine of South India is known for its light, low calorie appetizing dishes. The traditional food of South India is mainly rice based. The cuisine is famous for its wonderful mixing of rice and lentils to prepare yummy, lip smacking dosas, vadas, and idlis. South Indian dishes are not just delicious, but also very easily digestible. The best part is that South Indians do not use much oil for cooking their meals. Sambar is like a must in the main course. It is usually a companion to the food items be it idli, vada or dosa. Most of the South Indian dishes consist of masala dosa, coconut chutney, sambhar, rasam, vegetable curry, and pachadi. When it comes to rice preparations, South Indians are real experts. Their lemon rice is savored and appreciated by almost all people. Other preparations of rice include coconut rice, carrot rice, and fried rice made by using coconut, curry leaves, urad dal, tamarind, peanuts, chilies, and fenugreek seeds. South Indian chutneys are well liked by people. In fact, chutney, especially the one made from coconut, is the major attraction for many people who visit a restaurant that specializes in South Indian cuisine. The main ingredients for preparing varied chutneys are coconut, peanuts, dal, tamarind, fenugreek seeds, and cilantro. Dals cooked in the South Indian style are also quite different from that of North Indian preparation. They are more soupy in comparison to the dals cooked in the North Indian style. Hyderabadi cuisine: Hyderabadi cuisine is better known as the food of the royals. Smell the distinctive aroma and taste of the biryani, which is a rice cooked with meat and spices all together in one. This food is a blend of Persian, Afghanistan and Indian cuisine. In this recipe, the meat is cooked together with the rice and sealed and cooked on low fire which is called dum. The rice absorbs the flavours of the spices.