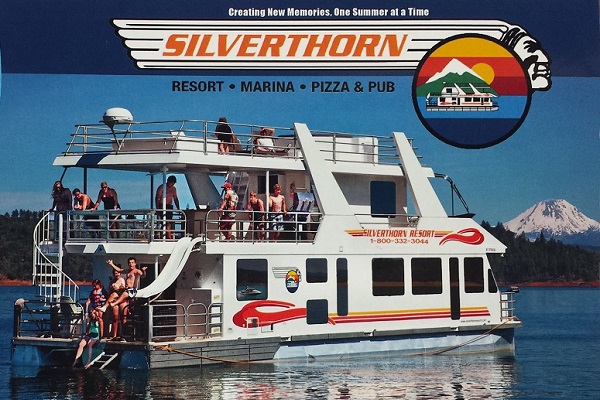 Address: 16250 Silverthorn Road,
Redding,
CA
96003
Phone: 800-332-3044
Website:
View Website
Description:
Silverthorn Resort began on August 1, 1853 with George Silverthorn who ran one of the first ferries in Northern California on the Pit River. George married Lucy, a Wintu Indian, and they had five children together. The Silverthorn name lives on with their descendants in the local area.
Since the time of George and Lucy Silverthorn, the area has undergone tremendous growth and change. Redding became the hub of the north state. Later, when the Shasta Dam was built, the resulting Shasta Lake became a major tourist attraction, drawing over 1 million visitors annually.
With over 375 miles of shoreline, an average depth of 400 feet, and 40,000 acres of surface water, Shasta Lake has quickly become a major houseboating and wakeboarding destination. The lake has hundreds of nooks, crannies, and coves creating secluded spots for all even on the busiest summer weekends.
Like most of Northern California, Silverthorn Resort has also grown and changed over the years—becoming one of the premier resorts on Shasta Lake. Silverthorn has some of the most luxurious boats on the lake such as the Queen houseboat with private staterooms, a hot tub, and three full decks of space.
Silverthorn Resort also has a marina with a fully-stocked grocery store, pro and apparel shop, fuel dock, private moorage, and a courtesy dock. For the less nautically inclined, we have cabins along the lake and a pizza pub with live music and the best views of the lake.
At Silverthorn, we know that you have a lot of choices for making summer memories - and we value the time that you choose to spend with us at Shasta Lake.